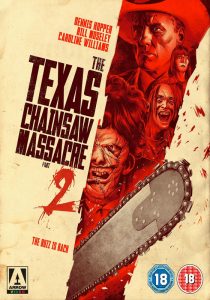 During September we're screening FREE horror movies at our Drive-In Cinema in Chepstow. These free cinema tickets are to celebrate the launch of the 2018 FearFest-Evil​ horror event, running on selected dates this October.
The final of our three films is the 1986 cult classic, The Texas Chainsaw Massacre 2.
"The Texas Chainsaw Massacre 2 serves up a heady blend of gratuitous gore, socio-political critique and jet-black humour whilst Dennis Hopper's unhinged turn as Lefty needs to be seen to be believed!
Whichever way you skin it, Leatherface's second cinematic outing is an uncompromisingly delirious vision from one of horror's great directors".
To book your free tickets, please use the following redemption code on our cinema booking page:
This horror classic will be screened on Saturday the 29th September 2018, 9:30PM at our Drive-In Cinema near Chepstow.
In conjunction with our free drive-in cinema screening, we will also have live music at the site earlier in the evening from the amazing 'The Three Pieces' with Pub Rock Covers and even some requests!

The Three Pieces are a Bristol based classic rock covers band. They cover bands like The Foo Fighters, Cold Play, Arctic Monkeys and Chilli Peppers. Come see us, you can be guaranteed a great night out!
This FREE gig will start around 630pm.
Details of the other free horror films are available here »