The perfect way to enjoy Halloween with children in Chepstow.
Price £8 *
No charge for adults accompanying children*
FearFest-Evil Condemned is strictly for over 16's, but we do have something for younger children this Halloween season.
On selected dates this October we've a family friendly Halloween trail in the National Diving & Activity Centre's woodland, just outside Chepstow in the Wye Valley and close to the Forest of Dean. Our spooky Halloween trail is suitable for children aged 3+ and families.
Tickets for our children's Halloween Trail will be made available during 2020
Pick out your favourite Halloween costumes and join us this October & Halloween for a spooky adventure…

The Halloween family trail is set within our FearFest-Evil 'Tales of the Dark' zone and includes a family fun woodland maze, a dark escape route within the walls of Claustrophobia, a woodland trail, a graveyard forest, and an abandoned railway line.
To depart the trail before the FearFest-Evil Creatures of the Night emerge, you must crawl through the big dark tunnel and enter the spooky cave to collect your children's Halloween treat.
The family friendly Halloween trail is open between 11.00am and 1.00pm on the following dates: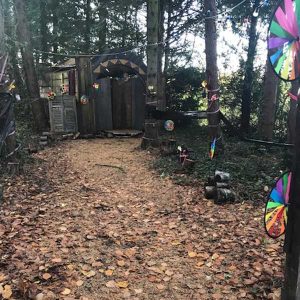 Saturday 12th October
Saturday 19th October
Thursday 24th October
Saturday 26th October (Halloween Weekend)
Monday 28th October
Tuesday 29th October
Wednesday 30th October
Thursday 31st October (Halloween)
Please Note: Our Chepstow Halloween trail has uneven and muddy ground. Visitors must be able to walk un-aided and have good levels of health and fitness to take part in this spooky event. Sturdy footwear and outdoor clothing appropriate to the time of year and weather conditions must be worn. Children must be aged 3+ and be fully mobile. Unfortunately the Halloween trail is not suitable for pushchairs or prams.
Children must be accompanied by a responsible adult with a maximum of 1 adult per child and a maximum of 2 adults per group. There is no charge for adults accompanying children.
Jonathan Brockway


My wife and I brought our children (9 and 6) to the daytime 'Family Maze Trail' for children and were frankly blown away by how much there was to do and the fact that we got to interact with some of the scare maze actors.

They were all really careful to match their attitude and delivery at a level our children were comfortable with – my daughter (6) was particularly uncertain at first but was enthralled within minutes of meeting the first character who led us on the start of our journey.

Hopefully you'll keep this event going as we thought it was brilliant; as great in it's own way as the evening event is for adults. Both children were allowed to wear their costumes on their trip (we took a witch and a skeleton with us) and as adults we got to go along for free!

Believe me when I say that it's nigh on impossible to find things like this for kids that are designed to gently introduce them to the grittier side of Halloween; you guys have hit on something unique here and the execution is brilliant. My 9 year old boy now says he wants to come to the evening event when he turns 16 and the only time my daughter cried for real was when it was time to leave!

Every member of staff we met – from those working in reception to the (simply awesome) scare maze actors right through to the on-site security – everyone acknowledged us in a friendly way and wanted to know if we were enjoying our visit!

10/10 – and that score is from both adults and two very happy little monsters!