If you were one of our guests at FearFest-Evil Condemned, we hope you enjoyed your visit. Hopefully you survived any encounters with the Creatures-of-the-Night with your soul and sanity intact!
Survivor Profile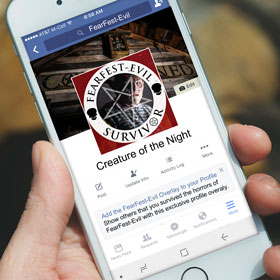 If you are on Facebook, we have an exclusive 'Survivor' profile overlay for you to use so that you can bask in the glory of your escape from hell!

Just follow the link, and with a single click you can add the Survivor overlay to your Facebook profile image for a week.
Review & Win
We have been receiving lots of fantastic feedback from the weekend and we really enjoy reading all your posts and tweets.

If you have a moment to spare we'd love to know what you thought of FearFest-Evil Condemned and would really appreciate a review on one or more of the review sites.