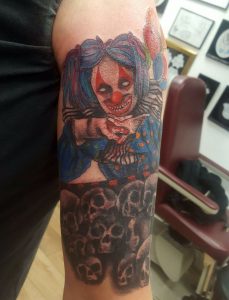 Neil Dodd, A FearFest-Evil Super fan, has been inspired by the terrifying Mr Gacy and recently got this awesome tattoo!
Mr Gacy the crazy clown was designed by
BurkBench Designs
and played by Ricky Gunter. He was one of the standout characters of FearFest Evil and we've plenty of reports of recurring nightmares following people's encounters with him! The artwork was inspired by a photo taken of the FearFest-Evil Character, taken by
KingDom Images
. The tattoo itself was inked by ‪
Kris Passmore
‬ from
Inked Up Bristol
Neil is looking to fill his arm with the other characters from FearFest-Evil, we can't wait to see the results!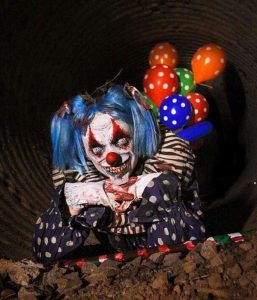 See more of Kris' work on his Instagram page, or at Inked Up Bristol
instagram.com/krispassmoretattoos/
inkedupbristol.co.uk/
Follow KingDom Images on Instagram
instagram.com/kingdomimages3001/
Read more about BurkBench Designs and follow them at
facebook.com/burkbench/