This screning is now fully booked. Keep your eyes peeled on social media for details of the next code release.
---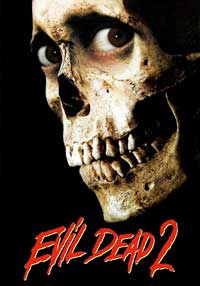 During September we're screening FREE horror movies at our Drive-In Cinema in Chepstow. These free cinema tickets are to celebrate the launch of the 2019 FearFest-Evil​ horror event, running on selected dates this October.
The second of our four films is the cult classic, Evil Dead 2: Dead By Dawn.
"The lone survivor of an onslaught of flesh-possessing spirits holes up in a cabin with a group of strangers while the demons continue their attack. EVIL DEAD 2 is a gore-fuelled, splatstick masterpiece that gleefully stomps on the entrails of good taste whilst puking in the face of Hollywood with no apologies." Amazon
"Confirms that Bruce Campbell & Raimi are gods" ★★★★★ Empire
"One of the most visually inventive, relentless, and truly original films ever made" BBC
"Delirious, demented and diabolically funny" Time Out Continue reading "Evil Dead 2 – Free Cinema Screening"