This screning is now fully booked. Keep your eyes peeled on social media for details of the next code release.
---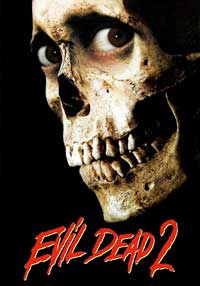 During September we're screening FREE horror movies at our Drive-In Cinema in Chepstow. These free cinema tickets are to celebrate the launch of the 2019 FearFest-Evil​ horror event, running on selected dates this October.
The second of our four films is the cult classic, Evil Dead 2: Dead By Dawn.
"The lone survivor of an onslaught of flesh-possessing spirits holes up in a cabin with a group of strangers while the demons continue their attack. EVIL DEAD 2 is a gore-fuelled, splatstick masterpiece that gleefully stomps on the entrails of good taste whilst puking in the face of Hollywood with no apologies." Amazon
"Confirms that Bruce Campbell & Raimi are gods" ★★★★★ Empire
"One of the most visually inventive, relentless, and truly original films ever made" BBC
"Delirious, demented and diabolically funny" Time Out
To book your free tickets, please use the following redemption code on our cinema booking page:
This horror classic will be screened on Saturday the 14th September 2019, 9:30PM at our Drive-In Cinema near Chepstow.
The View Cafe Bar will be open throughout the evening serving delicious food and drinks if you'd liketo enjoy a pre-film drink or meal.
Details of the other free horror films are available here »