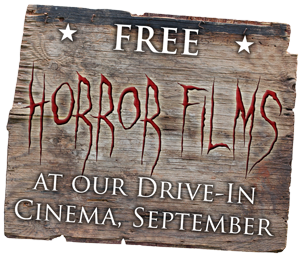 The start of FearFest-Evil is fast approaching and hopefully you've already got your tickets.
To celebrate the launch of this year's FearFest-Evil​ horror event and to get you in the mood for the upcoming Halloween month, we've a fantastic free offer for all you horror fans.
Over three Saturdays during September we're screening FREE horror movies at our on-site Drive-In Cinema in Chepstow.
To book your FREE tickets to the Drive-In Cinema you will need a redemption code. We will be releasing these codes on the FearFest-Evil social media channels.
For now, block out the following September Saturday nights in your diaries, share this post with your friends and make sure you are following FearFest-Evil on our Social Media channels for the horror cinema redemption codes.
•  Facebook @FearFestEvilChepstow
Film Screenings
15th Sept 18 at 930pm | Nightmare on Elm Street (1984 Original)  | Cert 18 | Code FREDDY
22nd Sept 18 at 930pm | The Blair Witch Project (1999)  | Cert 15 | Code Coming Soon!
29th Sept 18 at 930pm | Texas Chainsaw Massacre 2 (1986)   | Cert 18 | Code Coming Soon!
The films will be screened at our Drive-In Cinema, Chepstow at 9:30pm on the 15th, 22nd and 29th September 2018. Places will be allocated on a first come, first served basis. Entry limited to one car per booking.
Free Live Music
In conjunction with our free drive-in cinema screening we will also have free live music at the site so you can make a full evening of it.
This FREE gigs will start around 630pm.
15th Sept 18 Wired4Sound
22nd Sept 18 You Me And The Dance Floor
29th Sept 18 The Three Pieces